If you are arrested, contact a lawyer immediately and do not say anything incriminating to the arresting officer that may be used against you as evidence in court. Did you know that you do not have to say anything to
the officer arresting you besides your name and birth date? The police officers may attempt to bully or intimidate you into giving them more information. Always remain calm and never resist the police. Being difficult with the police will only escalate the situation and will not benefit you in any way. Even though you feel scared and powerless, try your best to keep a clear mind.
The Miranda Rights are several fundamental rights everyone has immediately after being arrested by the police.
The Miranda Rights are: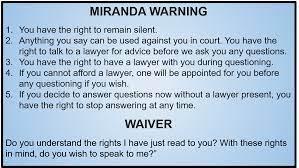 You have the right to remain silent while being interrogated by the arresting officer.
You can refuse to answer any of the questions that the arresting officer asks you.
Anything you say to the police officer can beused against you as evidence in a court of law
You have the right to consult an attorney before speaking to the police and if you cannot afford a lawyer, the government will provide a lawyer for you.
A very common mistake people make once they are arrested is that they feel panicked and tell the police officer incriminating information. One of the smartest choices you can make immediately after being arrested is to call for a lawyer and not say anything to the arresting police officer before the lawyer arrives. Consulting with a lawyer will ensure that your rights are not being violated. Lawyers are experts with helping people immediately after they are arrested by the police. Defense attorneys always deal with clients right after they are arrested and will work effortlessly to ensure there were no legal flaws involving your arrest.